Virtualization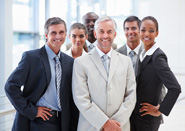 Infrastructure virtualization technologies are penetrating every IT silo from data center to the desktop. Customers are already pushing ahead with their adoption of virtualization technologies to reduce costs, deliver simple streamlined management with affordability and Superior Security. Given limited time and resources, Euclid Elementz help customer plan their adoption of virtualization to extract maximum return on their investment.
Tailor made implementation solutions to achieve following objectives:
Reduced Datacenter Costs
Centralize Storage
Provide High availability
Dependable disaster recovery
Achieve unprecedented IT flexibility and agility
Helping customers plan their next decade of investments in infrastructure virtualization
Euclid's subject matter expertise provides immediate tangible and quantifiable cost savings from datacenter to desktop. Euclid Elementz partners with industry leaders delivering the most comprehensive virtualization and cloud management. Let us integrate your overall IT infrastructure to deliver robust and reliable virtualization foundation.
Datacenter Virtualization Solutions
Virtualization and Cloud Management
Private/Hybrid Cloud
Server Consolidation
Desktop Virtualization Solutions
Virtualizing Enterprise Applications
Exchange Virtualization
Sharepoint Virtualization
Business Continuity
Disaster Recovery