Enterprise Information Management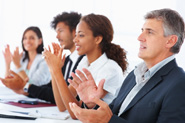 BI and broader analytics initiatives have played important role when making IT and business decisions over the past few years. However, there is a gap between IT priorities and business needs. Improving the use of data and analytics to make better business decisions has been the clear business demand in BI related spending across the region. We at Euclid directly link Bi projects to business objects to reorganize IT to better align with business outcomes and drive innovation
It is not easy to evaluate all of a service provider's capabilities before the implementations. Here are some of the important factors that distinguish Euclid Elementz from its competitors.
      "PEOPLE – TECHNICAL EXPERTISE – MARKET PRESENCE – INNOVATION – STRATEGY"
Fast changing trend of technology have resulted in uncontrolled flow of information i.e., data, logical use of large volumes of data help business achieve accuracy, consistency & swiftness. We help customers understand their process issues with their information and develop strategies through our expertise in Business Intelligence, Data Warehousing and information management systems and deliver solutions, which give customers a competitive edge over others.
Our EIMS practice has one of the best dedicated teams in the BI/DW & Information Management domains. We are focused in offering industry specific unique solutions to global organization through our EIMS practice.